Last Saturday, in between watching Naas beat ULBohemians in division 1b of the AIL and a guest appearance at Palmerstown golf club AGM (normally I'd prefer to poke sharp sticks in my eye than attend but my buddy is incoming captain and … politics), I shot up to the horticultural industry get-together in Airfield, Dundrum.
It's a lovely venue with an interesting history and it was good to say hi to designers, landscapers, a couple of garden centre operators and suppliers. Well done to Frazer McDonald (of Rock & Waterscapes) for organising again. My mistake was going straight back to the club – as opposed to home – to watch Ireland beat Australia. A good day and night then. Although not as good as being in Chicago to watch us trounce the All Blacks- that's a story for another time.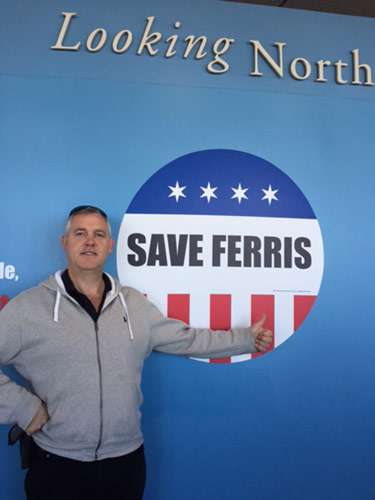 No, the trouble with her indoors really started when a couple of days later, I casually mentioned, at the very last minute, that I might go along to another more formal shindig; 'the thinking house launch for the Irish amenity horticulture industry'. Bord Bia were showcasing their trendy new insight centre – 'the thinking house'- by presenting a forecast of garden and lifestyle trends for 2017. If you couldn't make it, didn't know about it or just couldn't have been arsed I'll give you the low down here.
Starting at 8.30am it meant heading off fairly early, not dropping the kids to school and leaving my wife under pressure and inevitably late for work. Not good. So I did my duty, crawled through rush hour into town and arrived a fashionable hour and a half late. And possibly saved my marriage.
Lisa White, head of WGSN lifestyle & Interiors (A London based multi-national research house of sorts) was talking about robot lawn mowers – I've always been an advocate – as I slinged in and found a seat down the back. 'Gardens', she said, 'are increasingly seen as a safe haven' in this politically and economically volatile world. A Sanctuary if you will. Great name for a landscaping company right there! From now on forget about plastic pots and planters. Up-cycling is the next big thing. Warm colours are in. Pinks, browns and golden tones are trending – so choose your plants and pots accordingly. Purple features in our future too. Trellises are hot as will be flexible modular gardens (planters on casters methinks). Textured and fragrant plants are going to be all the rage. I felt like I was in an episode of Exposé.
Lisa went on to to explain there's a visceral need to get back to nature and get ones hands dirty. She gave an example of a Norwegian book about 'How To Chop Wood' being a recent surprise best seller. Not that anyone who bought/read/displayed casually on the coffee table even owns an axe. But at least they know, in theory, how. If it ever crops up in their busy urban lives. Jesus wept! Night gardens will become more important. So brush up on your lighting folks and remember to introduce some shiny objects out there to catch the light. 1970's glam, worryingly, is coming back. Smart gardening is in. For example IKEA (experts at forecasting – or is it dictating – future demand) are selling mini indoor grow houses – DIY kits for those who haven't a clue but want to start somewhere. Oh, random fact, it's important you know that the colour yellow continues to be big.
People increasingly want kinship. Despite Brexit and that muppet Trump, borders aren't cool. Try Mexican, Indian/Asian and exotic paraphernalia. Leaf motifs and replicas are a happening thing.
Millennials, or at least those of them that can afford outdoor space, value practicality, pastel colours and irreverence -the latter trait, at least, I share with them. Interestingly there is a reported backlash against consumerism coming. They want to buy less stuff. Stuff that lasts longer. So garden centres and landscapers need to respond accordingly. Many walk into their local garden centre and feel overwhelmed. GenerationX are plenty stressed already. They need plants and gardens even if they don't realise it. Think mindfulness. Less clutter. Restful spaces are what's required going forward (to paraphrase Brian Cowan).
After the break we were treated to an impromptu YouTube video of a tiny city garden as transformed by Kevin Dennis (Cityscapes). A small space thoughtfully rescued can be a big success. Well done Kevin.
If you want more insights into likely future trends in the landscaping world you can avail of Bord Bia's services. Just email info@bordbia.ie to book an appointment to use the experts resources. Congrats to Caroll Marks on the venue and occasion. We should recognise and value proactive help from a government body, unusual as this can sometimes be.
Nextly, and finally, Linda from the MRBI presented some research on consumer spending our field. Some interesting facts to start with. Question – by what percentage has our population grown in the last 15 years? Anybody? Anybody? (Sorry, I've Ferris Butler's day off on the brain since being up Sears tower in Chicago).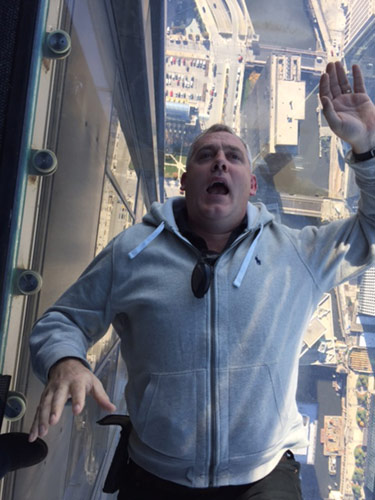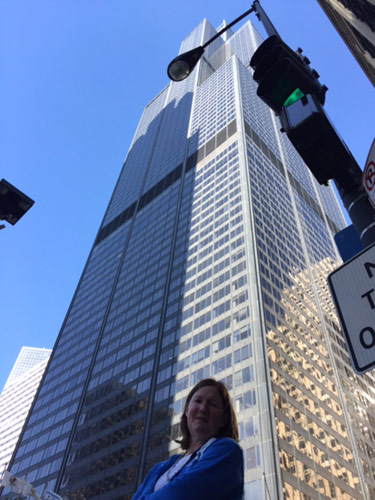 It's 20%! From 3.85 million in 2001 to 4.64 million today. And that's not counting all those Yahoos hiding behind the couch when the census people Called around. More startling to me was the number of households in the country – up 30%. From 1.26 million in 2001 to 1.69 million in 2015. So, nuclear families and divorce rates notwithstanding, don't complain about having more competition anymore. We've almost a third more gardens to sort out in the last 15 years again.
Her unemployment graph was zig zaggy. It was 15.7% in 1991, 3.7% in 2002/3, 15% in 2013 and about 8% now.
Overall industry spend? A tad under a billion euro in 2006, ah the good old days. It halved to €500 million in 2011, €630 mil in 2014 and is approaching €730 million this year in all likelihood. There were lots of other stats on trees (flat) vs shrubs, containers and GIY stuff (strong when the shit was hitting the fan but possibly plateaued now), etc. Hardscaping materials, you might not be shocked to learn, are far from hitting '06 levels. But recovering they are, despite the geographically imbalanced nature of much of the spend.
So there you have it. My marriage survives and we're all slightly better informed. Now I'm off to watch the late late toy show. As Dustin the turkey says its the only bloody time Tubridy does a good job. Plus I'm keeping an eye out for our Arizona on set!
Slán,
Mark 🙂
psst … Password for previous blogs, should you be so inclined, is "letmein" via the trade section on www.sanctuarysynthetics.ie